U
J
J

oel

U

ckelman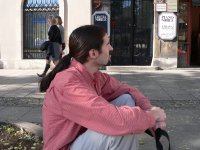 M

e,

the name I call myself:

I am, in no particular order: owned by two cats; married to this wonderful woman; the sysadmin for nomic.net and ellipsis.cx; in Kraków, Poland, in the photograph at right; pursuing a PhD at the Institute for Logic, Language and Computation at the University of Amsterdam; an avid boardgamer, I particularly enjoy historical simulations, a.k.a. wargames, and have quite a collection of them; a contributor to various open-source software projects, see below; a literalist, a lover of puns, and never bored. There are too many things to do.
Domains
, which I operate:
, a collection of recipes that Sara and I enjoy.
I enjoy cooking, though I do not pretend to be especially skilled at it, and have collected a small database of recipes that I tried and liked. The web interface for it is here. A few of these are my own creations, in particular the white chocolate cheesecake, which I developed during spring 2000 in an attempt to replicate the cheesecake sold at the Campustown Santa Fe Coffehouse in Ames, Iowa.
Software
, in the development of which I am involved:
Games
, and the playing thereof:
Photographs
, of various people and things:
Miscellaneous
, including, but not limited to: